Premiere Boudoir and Pinup Studio in NYC & SF
At Shameless we're proud and honored to have transformed more than 1,000 women into gorgeous pinups since this extraordinary journey began in 2009. We've been published everywhere – BuzzFeed and Cosmopolitan, but the most important audience for our pinup and boudoir images is the models themselves. We will stop at nothing to create images that you ADORE.
You Deserve It!
A day at Shameless is a spa day, a slumber party, and an art extravaganza all wrapped up in one.
We live and breathe this work, and we've seen how the Shameless process can change people's lives.
We hold ourselves to the highest standards, and you can count on us to create images that you'll love for a lifetime.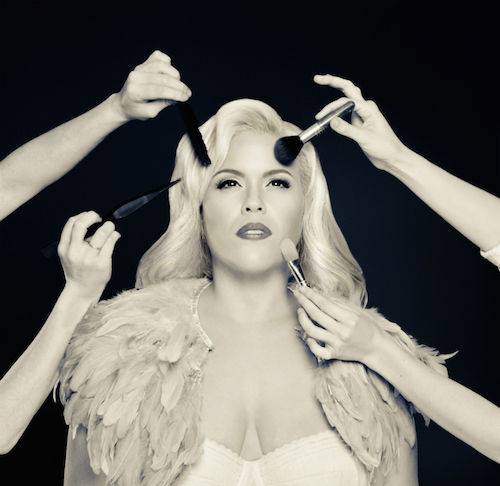 Let Us Capture Your True Style
We thoroughly customize every shoot to reflect your one-of-a-kind personality, interests, and secret dreams.  Our styles are true to the 1940s and 1950s in order to capture your timeless and iconic inner bombshell.
Endless Possibilities to Fulfill Your Every Desire
Award-Winning Customer Service

Fully-Customizable Experience

Conveniently Located Studios

Custom Wardrobe, Props, Backgrounds

Authentic Hair and Makeup Styles

Wardrobe Guidance from Head to Toe

Thousands of Vintage and Retro Garments
Warm, Welcoming, All-Female Team

Delicious Complimentary Snacks

Supportive and Affirming Atmosphere

Hairstyling Options for All Hair Types

Makeup for All Skin Tones

Mountains of Luxury Lingerie
1-Week Turn Around for Proofs

Highest-Quality Retouching

Customer Satisfaction Guarantee

Best Selection of Photo Gifts

Absolute Discretion and Privacy
We Love our Clients, And They Love Us.
Your happiness is our reward. Check out what our clients have to say about their experience in our studios.
"Can I just say….MOST AMAZING EXPERIENCE OF MY LIFE!?!?
Let me note, that I am extremely shy and pretty self-conscious about my body and they made me feel completely comfortable after five minutes of meeting them. " – Erin K.
If I could give them more than 5 stars I would – off the charts. Thanks ladies for making me feel like a million bucks!
Every woman deserves a day like the one I had at Shameless Photography NY in Brooklyn. Probably the most magical, empowering, and fun experiences I have ever had. You'll be a queen for the day!
If you're looking for something that will change the way you feel about your body than please book at shoot with Shameless.
A photo shoot with Shameless should be on every woman's bucket list!

Everything was down to a science – this team knows exactly what they are doing and they deliver exactly what the client wants in an amazing, fun environment. With the decor in the room and the oldies music playing, you will feel as though you stepped into a time machine and you are really in a past decade, a vintage era.
I am extremely shy and pretty self-conscious about my body and they made me feel completely comfortable after five minutes of meeting them…I recommend that EVERY woman at some point in her life do something like this…I am not a model, but they made me feel like one and the final images are just….epic.
These women were made to do this and they will help guide you in every way and by the end of the day you will feel absolutely stunning inside and out.

I highly recommend Shameless Photography to any woman who may have ever doubted themselves or disliked the way they looked for one reason or another. To take part in such a creative, empowering journey with these noteworthy camera carrying femme fatales is a very humbling experience.

It was and will be a day that I will treasure for the rest of my life.

So stop wasting time reading reviews! Go book a shoot!
This was an amazing day that I will never forget. I am so happy with my pictures and with the entire experience. If you want boudoir photos or pinup photos that are creative, joyful, and sexy….this is the place to go.

I loved the fact that Shameless can make any woman – regardless of color, shape, size, ability status – into a pinup for one day and that they pride themselves on being so inclusive. This is a kind of woman owned and operated business that I want to support 100%.
Join Our Family of Shameless Beauties!